No model of South Pelaw Junction would be complete without the iron ore trains and here I'll be building the 56 Ton Iron Ore wagons used on the line between 1954 and 1974.  Kits for these wagons are available from both Dave Bradwell and Dave Alexander and it is the Dave Alexander version I'll be building.
Step 8…
After a long time with no progress, I thought I'd try some weathering on one of the iron ore wagons so here's an original photo (copyright Howie Milburn) with my model version below for comparison.
Step 7…
I've given the wagon a quick coat of paint so I can see if anywhere needs filling or sanding – there are a couple of places.  The right hand bogie does not seem to be sitting perfectly flat so that will attended to as well.  Underframe needs brake levers and then it is done.  There is some conjecture of what the actual colour of these wagons was, I've used Tamiya Red Brown which looks good to me and, in any event, in reality the wagons were filthy so a lot of the underlying colour is going to be lost anyway…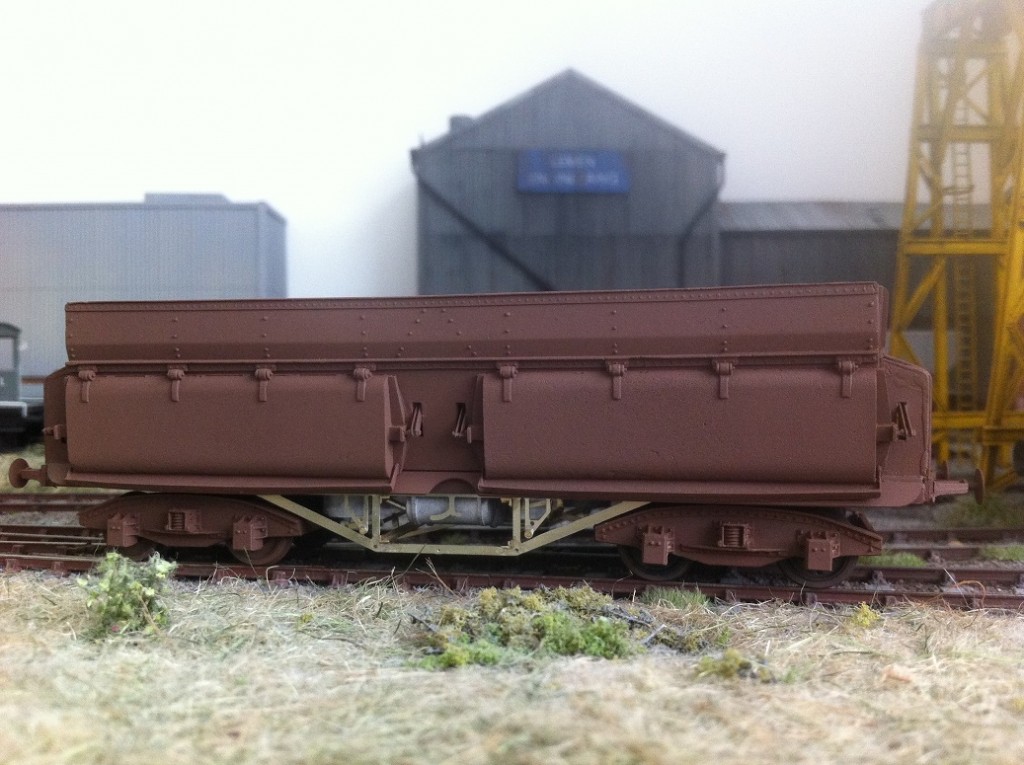 Step 6…
I've moved on to the under frame which conveniently is built as a sub assembly that is subsequently glued to the bottom of the wagon base.  Lots of PE here but, like the rest of the kit, it is going together flawlessly.
And here's what it looks like in place, not glued yet as there is more detail to add:
Step 5…
Bogies have been built (brake gear still to be added) and tested on the body.  I mentioned earlier in the thread about the superglue taking for ever to cure, Mick at Durham Trains of Stanley suggested Zap-a-Gap as an alternative and, having tried it, it is doing a much better job than the glue I had, you could probably stick water together with this stuff…
I have to give a thumbs up to Dave Alexander for the kit itself, everything just fits with no adjustment required and only the tiniest bits of flash to remove with a scrape of the scalpel blade…
Step 4…
Hopper doors are on:
Step 3…
The side panels are now on, the vertical supports will be cut away once everything has set solid.
Step 2…
Next up are the hopper interiors made up of 3 pieces of photo etch.  The centre section needs four folds and requires that you get the part exactly the right width to fit in slots in the other two pieces – this is something that could have been easier if a form had been supplied to bend the etch over to shape…
Step 1…
The kit is beautifully cast in white metal, resin and brass with a stainless steel PE sheet and, whilst fairly complex, they look like they are designed to go together as easily as possible. Everything you need, including couplings and wheels (although I'll be replacing the wheels for some P4 ones) comes in the box.
I've never built a whitemetal kit before although I am familiar with using PE.  Whilst whitemetal can, obviously, be soldered, I'm going to construct this one using super glue and we'll see how it goes.
I've made a start with the ends of the hoppers and one thing I have immediately found is that the super glue seems to take longer to go off with the whitemetal that is does with plastic so holding the parts in place while the glue dries can be a little problematic.  I have reinforced the ends with some plasticard which will be hidden once the hopper interior is fitted…