Update – January 2016
Four of the Bachmann 16T wagons have been completed.
Update – December 2015
Eight of the 21T wagons have now been completed with the weathering of the chassis done with pastel chalks.
Update – September 2015
Work has continued on the fleet of 21T hoppers which are now a mix of Hornby RTR, Dapol RTR and Parkside kits all of which have been rewheeled with Alan Gibson wheels and fitted with Smiths 3-link couplings:
Coal Wagons
Vast numbers of coal wagons were to be found working their way up and down the line with the main variants being the standard BR 16T wagon and the LNER 21T Hopper.
Both will be represented on the line with the 16T wagons coming from Bachmann and the 21T a mix of Dapol, Hornby and Parkside Dundas kits.
For the rust I'm using a mix of Burnt Sienna and Burnt Umber oils which can be be mixed with white spirit to give a range of colours and effects.   Small amounts of oil are stippled on and more added/taken away until the desired effect is reached.  Once the rusting is complete and the oil has had a chance to dry (which takes a few days) a final few rust sreaks will be added and the wagon given a a final thin wash all over.
16T Wagons
The 16T wagons from Bachmann come pre weathered but, as well as all having the same number, the weathering on every wagon is identical so each wagon requires some work to make it individual.
After some more work, the the 16 tonners now look like this (remember they were all identical to start with)
I've made a start on one of the Bachmann wagons as shown below with the out of the box wagon on the left.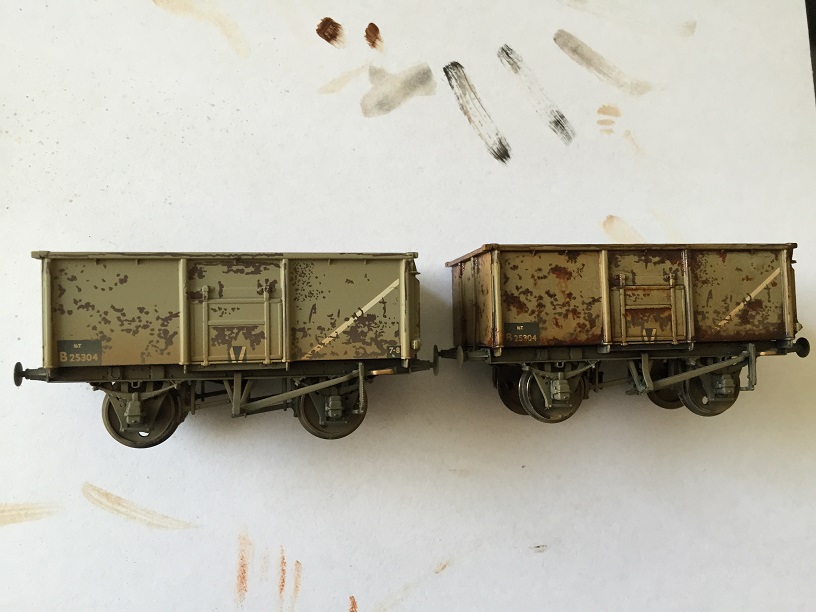 21T Hoppers
The hopper below is from the Parkside Dundas kit with Alan Gibson wheels and Smiths 3 link couplings.  It is being painted to represent the wagon second from the left in this photo:
I'e been working on a Hornby 21T wagon, using this photo for inspiration: http://paulbartlett.zenfolio.com/img/s3/v26/p794458822-3.jpg :